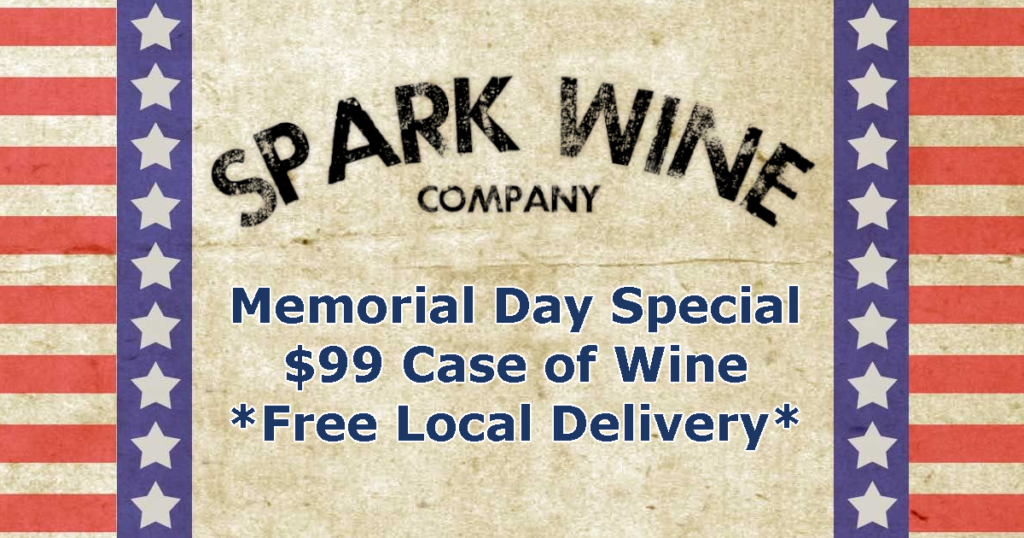 Spark Wine is kicking off the Memorial Day weekend with a great Wine Special!
Mix and Match Memorial Day Case Special. You can pick any 12 of our wines below in whatever quantities you'd like plus free local delivery within 10 miles of 15044.
We will reach out to you to finalize the configuration and delivery time!
Offer valid while supplies last, free delivery within a 10 mile radius of Gibsonia, PA – 15044. Free pickup is also available.
If you'd like to arrange shipping via UPS within PA please contact us prior to purchasing so we can provide a shipping quote/final total.
This offer is valid for PA sales only.
You can mix and match any of the following wines — Diamond, Catawba, Chardonnay, Riesling, Fredonia, Concord. We have very limited amounts of Catawba left. We will reach out for your wine selections and to schedule delivery!
Concord: This sweet, juicy wine is a fun and flirty. With a bright distinctive flavor, our Concord has a delightfully vibrant finish. Best served chilled.
Fredonia: Not your typical boring red wine! Derived from Fredonia grapes. This semi-sweet, medium bodied wine packs a light and fruity flavor and refreshing tartness. Best served chilled.
Riesling: Our noble Riesling will have you salivating with its' fresh orchard aroma. This light body white wine is full of vibrant flavors of ripe pear and apricots and a delicate mineral quality. Served cold – our Riesling is a perfect accompaniment to spicy food or delightful all on its own.
Catawba: Pronounced kuh-TAW-buh for those who have not yet been introduced to this enjoyably sweet and refreshing pink wine. This predominantly East Coast varietal once was the most widely planted variety in the country! A refreshing medium-bodied wine that tastes of fresh fruit and mild berries with a bright smooth finish. Best served chilled.
Chardonnay: An unoaked off-dry white wine that will not disappoint! With a hint of ripe cantaloupe and soft floral aromas – this is a true easy drinker. A delightfully balanced and refreshing wine that can be enjoyed with seafood, chicken, or all by itself.
Diamond: Diamond is a sweet and tart refreshing white wine that will make you feel like you're eating grapes straight off the vine. This hybrid grape has kept a low profile compared to its' famous Concord parent – but she's a true hidden gem! An unforgettably crisp taste with a bold floral aroma – our white Diamond is the perfect everyday sipper.